Today I received a technology award! Now, I don't post too often to here, other then the occasional video, but I thought I would today. It has been presented via Email that I have received an award. The email said I am one of the top 200 Tech Blogs in the world!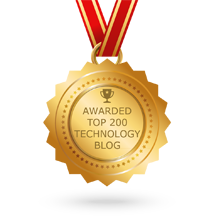 The kind manager also thanked me for my contribution to the world stating the following:
"This is the most comprehensive list of Top 200 Technology Blogs on the internet and I'm honoured to have you as part of this!"
Therefore, I am 127th on the list and even though I'm not sure how legit this is, its a step in the right direction, I think.
More?
Does anyone else know if I am on any other lists like this? It would be great to hear more from this or have this happen more as you could imagine. I really do appreciate people sharing my content and if you guys see any content that I make that you really like. Please do share it.
For any other blog type posts check on the page here.